BRIAN LEW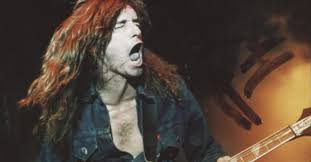 Umlaut is a history geek.  I'm fascinated by how events that happened years ago can still influence and affect events now.  I'm also fascinated by how an event in history can hold your attention for years, even decades, because there's an existing mystery or lack of knowledge about its outcome.  One such subject is the video footage of Metallica's legendary set at Oakland Stadium on August 31, 1985:
Umlaut was down in front of the stage that warm August day and it was one of those rare events where I really did feel something special was happening... and that things were changing before my eyes.  Metallica went to another level that day... They really did. 
Every Metallica fan has dreamed and hoped that somehow the band's entire Day On The Green set was filmed.  Over these many years there have been rumors and old memories that the set probably wasn't completely filmed... After all, Metallica were still an underground band who were the 4th band on a 6 band bill.  However, that iconic 'For Whom The Bell Tolls' footage, and the couple of minutes of other footage, have kept the fires of hope burning in the minds of Metalheads... many of us who now have grey hair.  Well, now my friends, we finally have what I think is a definitive answer about this Holy Grail of Metal.
This week a photo surfaced courtesy of an old Bay Area Metal fan named Anthony Valadez:
There are a couple of important things about this photo... First, that denim vest clad guy in the photo pit is none other than my
Murder In The Front Row
co-author Harald O.!  Second, and sadly, there is no camera man at the video camera that was used to film the existing concert footage... which pretty much proves that Metallica's entire set was
not
filmed and captured for posterity.  Damn...
The band's setlist that afternoon was:
Creeping Death
Ride The Lightning
For Whom The Bell Tolls
The Four Horsemen
Fade To Black
Seek & Destroy
Whiplash
Am I Evil?
Motorbreath 
Since the only footage that has surfaced are a couple of frustratingly brief snippets of 'Ride The Lightning' and 'Bells' I think it's safe to assume that the cameraman started filming during 'Ride' and stopped to go backstage and snort coke (or whatever concert video cameramen did back then) as 'The Four Horsemen' started.  Anyway... It is what it is after all these years.. so I guess we should just treasure the 5+ minutes that we do have from that iconic set and not dwell on "What If"...
"Life it seems will fade away... Drifting further every day.."
Thanks to Anthony Valadez for giving me permission to post his photo!
by Devilhorn: Long live Cliff!!!! the major rager on the 4 string mother fucker - if you want to help donate to the cliff burton scholarship, we are donating a % of profits from the sale of the official Cliff Burton metal T shirt on sale from our website.